The Nisbet Church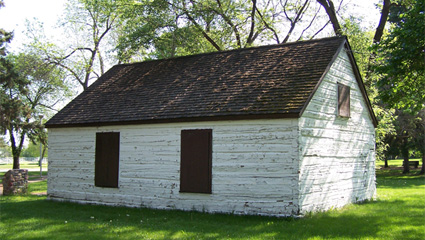 The Nisbet Church was constructed in 1872 by Reverend James Nisbet and was used as both a church and a school.
We believe it to be second oldest church in Saskatchewan and the oldest school between the Red River and the Foothills of Alberta.
The Nisbet Church was dismantled in June 2018. The building had deteriorated and could not easily be restored. The salvageable material has been stored until funding is available to have it rebuilt. Every attempt has been made to save the historically relevant parts of the building. When rebuilt, the Nisbet Church will be located west of the Historical Museum.
In September 2019, the Prince Albert Historical Society started a fundraising campaign to reconstruct the Nisbet Church and Blockhouse on the riverbank near the Historical Museum. More information is available on our Home Page or this information sheet. All donation amounts are welcomed; donations over $20 will receive a tax receipt.

Please consider donating to this project using our GoFundMe page or contact the Historical Society: