The Block House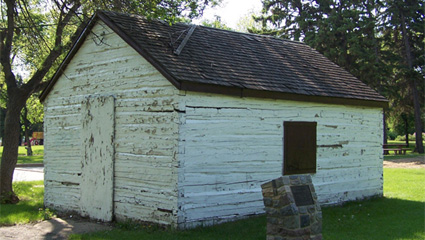 The Block House is a non-designated heritage property once located in Kinsmen Park in the City of Prince Albert. The Block House is a rectangular one-room, hewn-log structure constructed between 1881 and 1885. The external dimensions are 6.20m x 4.95m (20.3' x 16.2').
Part of the heritage value of the Block House resides in its association with the North West Resistance conflict of 1885 and it is therefore considered to be associated with events, places and/or people which have made a lasting contribution to the economic, social, cultural and political history and development of Saskatchewan. The building originally was constructed by Archie Ballantine as a stable for William Vaileau Maclise, Prince Albert's first lawyer who arrived here in 1881.
During the North West Resistance the building was used by the Prince Albert defenders as a block house. In March of 1885, with rumours of Métis attacks on Prince Albert, a high wall of cordwood was constructed around the Presbyterian Church and manse, serving as a "Fort of Refuge" for nearly 1,000 people who fled to Prince Albert. The Block House was located just south-west of this Fort of Refuge and used as a defensive position by soldiers and North West Mounted Police officers. Gun slots were cut into the walls for rifle barrels, allowing occupants to maintain watch over the area. Several of these rifle slots still are visible in the existing logs. References also mention that following the 1885 conflict the building housed the poultry at the first fair of the Lorne Agricultural Society (now the Prince Albert Exhibition).
Heritage value also lies in the building's vernacular constructionand is therefore considered to reflect a tradition that is important in the history and development of Saskatchewan. Constructed of dove-tailed, hewn square logs, it is a simple, rectangular building with hip roof, reflecting local construction materials and methods available at the time.
In 1933, the building was acquired from either Dr. Findlayson, on whose property it sat, or from the City who may have actually owned the building. Using Provincial Jail staff, it was disassembled, relocated, and reassembled with some modifications in the upper portion of the structure, at the former location in Bryant (now Kinsmen) Park. It is one of only two buildings that remain from Prince Albert's settlement years.
The Blockhouse was dismantled in June 2018. The buildings had deteriorated and had become difficult to maintain or restore. The salvageable material has been stored until a suitable location and funding are available to have them rebuilt. Every attempt has been made to save the historically relevant parts of the building, such as the gun ports in the blockhouse as they tell of the building's use in 1885.
In September 2019, the Prince Albert Historical Society started a fundraising campaign to reconstruct the Blockhouse and Nisbet Church on the riverbank near the Historical Museum. More information is available on our Home Page or this information sheet. All donation amounts are welcomed; donations over $20 will receive a tax receipt.

Please consider donating to this project using our GoFundMe page or contact the Historical Society: